ATD Group has a solid experience in logistics for Energy, that's why we know the importance of agility when it comes to projects for power plants and components. Oversized parts such as turbines, generators and energy transformers are key-elements in the construction of power plants.
ATD is a reference in the Energy sector because we have developed complex and challenging projects, from Natural Gas Combined Cycle to Bi-Polos and Substations for Electrical Transmission Lines in different regions of Brazil, like Amazon (north), Rondonia (north) and Sao Paulo (southeast).
Today, ATD becomes a sectoral reference both in Oil & Gas and Energy, due to our experience in tailor-made solutions and geographical areas such as mentioned above.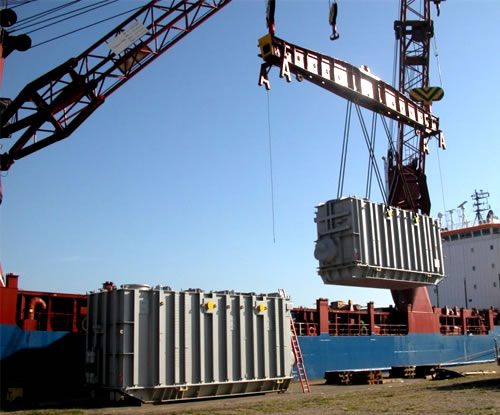 The transport and lifting of items for the power activity are executed depending project requirements, with dedicated trailers, heavy rail wagons, barges, ships, gantry cranes, strand jacks and spmt.
Below a list of some of the tasks which ATD perform within the power industry:
Preliminary feasibility studies for heavy cargoes and transportation routes
Transport engineering, geometrical and structural analysis
Multimodal transport and lifting of of turbines, generators, rotors, steam drums, transformers
International transport with gear vessels, both heavy and general cargos
Origin and destination terminal wharfage activities
Site to foundation; erection of modular top hung boilers and layer lifting of horizontally connected boiler modules, handling, skidding and lifting turbines, generators and Transformers
Thermo unit dismantling; boiler parts, rotors and other equipments belonging to potencial foundation