ATD has an experienced engineering team with a solid background in projects with high technical complexity.
We offer technical consulting and engineering services for the transportation sector, making possible the most complex logistics solutions for projects in Latin America.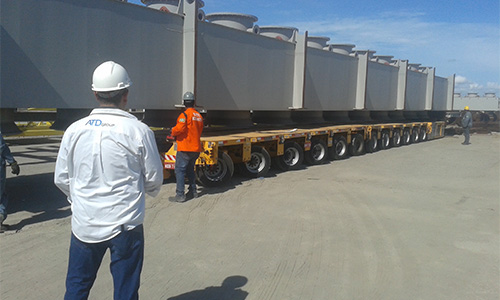 Our Engineering and Project Management division offers the following services:
Transport Engineering:
Survey and technical viability studies
Geometric viability studies
Structural viability studies
Technical advisory, reports and interface with government institutions for heady load transport.
Navigation Engineering:
Navy Engineering studies to support:

Stowage plans
Load-out / in of heavy load cargoes
Ballast and stability studies in barge transportation
Navigability in rivers and maritime channels of private terminals
Super heavy load tying aboard and load movements aboard
Reviews of Shipowners? stability studies
Mechanical Engineering to support industrial assembling:
Rigging studies for crane operations
Studies about horizontal movements and lifting of parts and modules at industrial units.